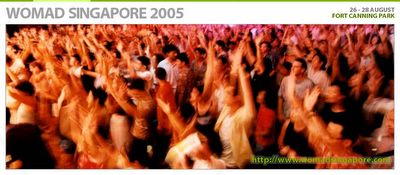 WOMAD stands for World of Music, Arts and Dance, expressing the central aim of the WOMAD festival - to bring together and to celebrate many forms of music, arts and dance drawn from countries and cultures all over the world.
WOMAD was originally inspired by Peter Gabriel: "Pure enthusiasm for music from around the world led us to the idea of WOMAD in 1980 and thus to the first WOMAD festival in 1982. The festivals have always been wonderful and unique occasions and have succeeded in introducing an international audience to many talented artists. "Equally important, the festivals have also allowed many different audiences to gain an insight into cultures other than their own through the enjoyment of music. Music is a universal language, it draws people together and proves, as well as anything, the stupidity of racism."
As an organisation, WOMAD now works in many different ways, but our aims are always the same - at festivals, performance events, through recorded releases and through educational projects, we aim to excite, to inform, and to create awareness of the worth and potential of a multicultural society.
The WOMAD Festivals Since the first festival in Shepton Mallett, England in 1982, WOMAD has presented more than 145 events in 22 different countries and islands. Having established its presence in the UK, WOMAD 's unique nomadic indentity evolved gradually during the eighties. In 1988, the festival began to be presented internationally, with initial events in Denmark and Canada. Since then, WOMAD 's worldwide profile has grown quickly, now embracing events in Australia, New Zealand, Singapore, the Canary Islands, Sicily and the UK each year.
The festivals are often weekend-long, family-oriented, active and diverse musical events, featuring simultaneous performances on two or three stages, including participatory workshops and special events for children, as well as music and dance sessions hosted by many of the visiting artists.
Visit
www.womad.org
or Womad Singapore for more details.